History
About Simpson Strong-Tie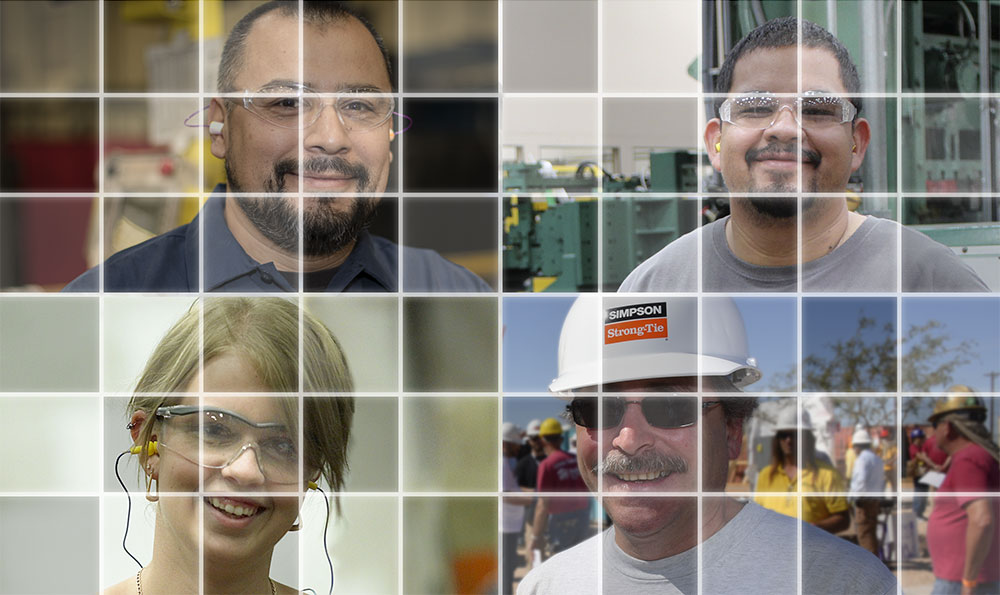 Simpson Strong-Tie Company Inc. was founded in Oakland, California 1956. The Company's common stock trades on the New York Stock Exchange under the symbol "SSD". For over 60 years, Simpson Strong-Tie has focused on creating engineered structural products that help people build safer and stronger homes and buildings. Considered a leader in structural systems research, testing and innovation, Simpson Strong-Tie® products are recognised for helping structures resist high winds, hurricanes and seismic forces.
Simpson Strong-Tie is one of the largest suppliers of structural building products in the world, including timber connectors, fasteners, fastening systems, anchors and lateral-force resisting systems. The company is known for its commitment to product development, engineering, testing and training as well as providing customers with quality products and exceptional service. Today, Simpson Strong-Tie has more than 3,100 employees and more than 50 factories, offices and warehouses all around the globe.
Simpson Strong-Tie began manufacturing engineered structural connectors for timber-framed construction in 1956 in California, USA. Nearly 40 years later, the company entered the anchoring industry, and the product line has expanded to include many anchoring, crack-injection repair and masonry adhesives, and a full line of powder-actuated tools and fasteners.
In 2004, Simpson Strong-Tie acquired Quik Drive® fastening systems, a company based in Gallatin, Tennessee, USA. Quik Drive operated in Australia prior to the acquisition and has since continued to distribute a wide range of Simpson Strong-Tie products around the country. This range now includes fasteners, mechanical and chemical anchors, lateral systems, powder-actuated tools and connectors. The Simpson Strong-Tie sales team operates nationally and is equipped with technical support and training to assist with specification and jobsite support to service the needs of our customers.
History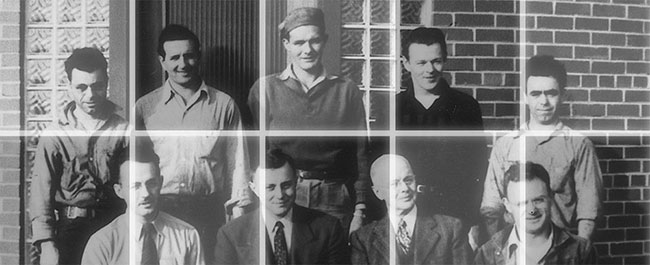 On a Sunday evening in the summer of 1956, Barclay Simpson's doorbell rang. A neighbor's brother had stopped by to ask if he could make a product to connect the ends of 2x4s for a roof. Barclay replied, "Of course!" So he sat down with his plant foreman, developed some rough sketches and used a punch press to create his first joist hanger.
That simple beginning was about more than just solving problems. For Barclay, it was about putting the customer first. Our phrase–"Our customers are our bosses"– is a simple philosophy that permeates all that we do.
At Simpson Strong-Tie, it's about enjoying what we do, doing it right and supporting our customers every step of the way–from order placed to product installed.
Today, Simpson Strong-Tie is the world leader in structural product solutions–solutions that not only help our customers, but help make structures safer and stronger. The company is recognised as the genuine connector brand in the residential construction industry, and also for its ever-expanding offering of shearwalls, moment frames and fasteners. In the last two decades, the company has expanded further with products for infrastructure, commercial and industrial construction, including mechanical anchors, adhesives and products that repair, protect and strengthen concrete and masonry.
But even with all of the growth, we still keep it simple, focusing on the core values that Barclay instilled and living up to our reputation of reliability, innovation, quality and service.
Commitment
Mission
We provide solutions that help people design and build safer, stronger structures.
Values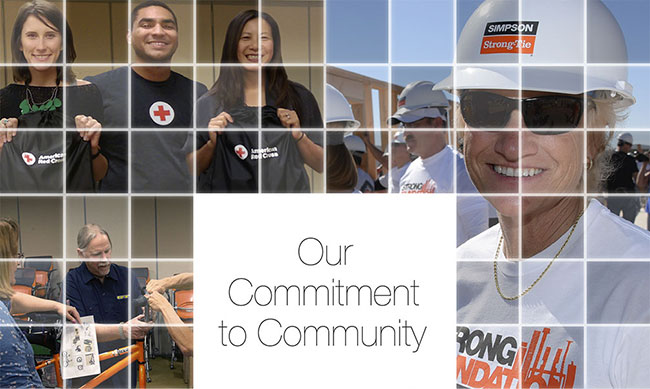 Relentless Customer Focus
Long-Range View
High-Quality Products
Be The Leader
Everybody Matters
Enable Growth
Risk-Taking Innovation
Give Back
Be Humble, Have Fun
Vision
To provide the most trusted construction solutions on jobs worldwide.
Sustainability
We manufacture products for wood, masonry and concrete construction. These different manufacturing processes present unique challenges. Teams from our manufacturing facilities continually work to implement cost-effective, sustainable solutions. Read more about our manufacturing process, and what our different manufacturing facilities do to increase efficiencies and reduce our impact on the environment.
Manufacturing Process
Manufacturing for Timber Construction
R&D engineers focus on material efficiencies and innovative features to minimise waste in our steel connector, anchor and fastener designs.
Lean processes at our manufacturing plants help to reduce waste and improve production efficiencies.
Energy-efficient lighting, heating and cooling systems further reduce our impact on the environment.
Manufacturing for Concrete Construction
Some of our concrete construction products are used to rehabilitate and reinforce projects. This strengthening provided by these products reduces the need for complete demolition and removal of deteriorated materials to landfills.
These concrete products contribute to the longevity and sustainability of the projects on which they are used.
Some of the raw materials used in these products contain chemicals that are hazardous. After fabrication, these chemicals are inert and are no longer reactive.
Quality Programs
Our Quality Management System utilises the requirements of the ISO 9001 Standard, the most recognised and implemented quality management system standard in the world.
We achieved ISO 9001 registration in 1996, and believe that ISO registration is a valuable tool for maintaining our high quality standards. We integrate all of our new business locations into our quality system and most achieve ISO 9001 registration.
ISO 9001-2015
Simpson Strong-Tie is an ISO 9001-2015 registered company. ISO 9001-2015 is an internationally recognised quality assurance system which lets our domestic and international customers know that they can count on the consistent quality of our products and services.
ISO 14001
Our French (St. Gemme la Plaine) and UK facilities are ISO 14001 certified. This standard states the requirements for an environmental management system, and applies to the environmental aspects over which our company has control and can be expected to have an influence.
OHSAS 18001
Our Tamworth, UK facility is OHSAS 18001 certified. This certification reflects an internationally applied British Standard for occupational health and safety management systems.
Use of Non-Toxic Materials
Connector products that require painting are processed using either water-based paints or powder coating. Powder paint has no volatile organic compounds (VOCs), poses no fire hazard and does not produce toxic fumes while drying. Water-based paint has a minimal amount of VOCs. Submerging our products in water-based paint rather than spraying eliminates risk of the paint being atomized into the air, further reducing the effect on air quality. We use non-toxic powder for powder-coated products, and filter and recirculate the water used in this process in powder-coated wash tanks. This eliminates wastewater entering groundwater. Both methods eliminate the volatile organic emissions associated with solvent-based paints.
Steel Recycling
In 2017, Simpson Strong-Tie recycled more than 13 million kilograms of scrap steel.
Simpson Strong-Tie evaluates two different steel recycling data points:
Before we manufacture: what percentage of mill-certified steel that we purchase is recycled?
Our connectors are produced from mill-certified steel. It is difficult to ascertain the exact amount of recycled content in our products. We rely on the information published by the steel industry.
After we manufacture: what amount of steel do we generate as waste, and send for recycling?
In addition to using recycled steel, our metal stamping production dies and factory tooling are designed to help minimise steel waste. We recycle the scrap steel resulting from our manufacturing process at all facilities around the world.
Innovation
From the first years of operation, Simpson Strong-Tie has led the industry in engineered structural connector design. Today, we have more than 60 engineers on staff, and the legacy of innovative product development lives on through the work we do every day. We have several accredited test facilities, giving us the capability to test the smallest products to the largest systems. The work we do in our labs gives us a better understanding of how structures perform, advances our design technology and improves building safety.
Our Research Labs
Tyrell Gilb Research Laboratory, Stockton, California
Tyrell Gilb Research Lab is the hub of our research and development activities. The lab's highly specialized equipment allows us to test a structure's ability to resist earthquakes, high winds and other natural disasters. Full-scale structural components are tested using the lab's seismic shake table and cyclic/static test frame. The shake table re-creates ground motion, moving back and forth horizontally at the foundation level. The vertical and horizontal cyclic/static rigs apply force laterally to the top of a wall structure and can test wall sections up to five-stories high. Together, this type of testing provides an accurate measurement of a structure's resistance capabilities. The lab's three-dimensional testing of full-scale buildings is used to help clarify issues regarding allowable resistances of bracing methods under various load conditions. (Click here to see our test rigs in action.) The newest addition to the lab is a designated area to test our new line of Repair, Protection and Strengthening Systems for Concrete and Masonry. We now have the ability to submerge timber piles in water to recreate marine conditions for our products used underwater.
The lab is named in memory of Tyrell (Tye) Gilb, a former professor of architecture who led our research and development efforts for 35 years. "Tye's legacy of innovative product development lives on through the work done here," says Tom Fitzmyers, vice chairman of Simpson Strong-Tie. "The laboratory's testing capabilities allow us to advance our structural design technology, which improves building safety and ultimately helps save lives. That would have made Tye very proud."
Connector Laboratory, Pleasanton, California
Housed in our home office, the Connector Laboratory is accredited in more than 20 international construction standards. The lab routinely tests product prototypes and construction code criteria. Engineers in the lab use a variety of equipment to test not only individual connectors, but entire structural systems. In addition to testing products, the lab focuses its research on corrosion, wood assemblies, and concrete and masonry. The state-of-the-art computer system and 3D printer are used to build and test prototypes, allowing us to respond to customer testing and criteria requests.
Anchor Systems Research and Development Facility, West Chicago, Illinois
The main function of the West Chicago Laboratory is to test the structural integrity of concrete structures. On-site equipment can simulate earthquakes and other forces that can cause concrete to crack. Research from the lab is used primarily to develop new anchor and adhesive products for infrastructure, commercial and industrial construction. It is one of only a few labs in the United States accredited for this type of testing.
Branch Laboratories, North America and Europe
We have research facilities at our branches across the globe. In Tamworth, UK, engineers test prototypes and code criteria for the European construction market. Our North American branch laboratories (Texas, Ohio, Northern and Southern California, and Canada) address regional construction issues to service local customers.
Industry Innovation
Our research and development activities have led to many advances in the building industry. Over the years, we have developed countless products that help ensure structural safety and reduce cost, and created new construction systems to improve the way structures are designed and built.
Research initiatives and product innovations resulting in higher load values, faster installation, reduced costs and greater structural safety include:
Corrosion
Our corrosion research was instrumental in helping develop product solutions when the industry switched to new, and often more corrosive, formulas of pressure-treated wood. We actively communicated research and product recommendations to the building industry.
Structural Fasteners
Pioneering the use of structural fasteners (Strong-Drive® structural fasteners) with engineered structural connectors improved the strength and performance of wood-frame building connections as well as significantly reduced installed time and costs. This product change led by Simpson Strong-Tie is being well-received in the field and in the engineering community, and continues to gather momentum.
3D Testing
Our 3D testing of full-scale buildings continues to help clarify issues regarding allowable resistances of bracing methods under various load conditions.
Cyclic Testing
Leading the way in concrete repair, protection and strengthening, we conducted the industry's first full-scale, cyclic tests of repaired wood piles using the FX-70® Structural Repair and Protection System. The tests verified the system's performance capabilities and provided engineers with real-world data to help them evaluate the FX-70 System as a potential solution for their structural repair applications.
Structural Connections

Unmatched Quality from the Truss to the Foundation
With nearly 60 years of field and R&D experience, Simpson Strong-Tie® timber connectors are manufactured to the industry's highest standards. From framing angles to straps to heavy-duty joist hangers, we offer the most diverse product line so that you have the right product for the job.
Simpson Strong-Tie® connectors offer unmatched quality with laboratory and field testing, and are backed by our uncompromising commitment to customer service. As the company that built the connector industry, you can count on Simpson Strong-Tie® to work closely with builders, engineers and building officials to deliver innovative, building code-compliant solutions to help build safer, stronger structures economically. Download the Structural Connectors Overview Flyer.
Timber Connectors
From testing to service to availability, everything we do is engineered to ensure your project's success. With every product, you know you are getting the quality, value, service and on-time delivery that we have built our reputation on for the past 60 years.
From straps and ties to joist hangers and much more, Simpson Strong-Tie® structural connectors increase the strength and safety of timber-frame structures. Each connector is unique to Simpson Strong-Tie and is designed for specific applications without the need to adapt metal plating to suit a connection. Download the Timber Construction Connectors Catalogue (2016-2018).