Simpson Giving Back to Our Community through Foodbank Australia

Here at Simpson Strong-Tie we are big believers in giving back, because it's important to make what impact you can – we look for small ways to give back every day. Help out your neighbors, make time for others, and do what we can for those less fortunate.
Back in March, we had the opportunity to give back to our community through an amazing organization, Foodbank Australia. In the last year alone, the hunger crisis affected more than 2 million households who ran out of food. In fact, over 50% of people who reach out to these local/community charitable organizations are employed families/individuals not having the extra's to fully feed themselves or their families.
Operations Manager, Robert Torres' great leadership led a group of Strong-Tie team members through their very first hands on participation in volunteering and helping the crew at Foodbank pick and dispatch nonperishables along with some heavy fresh produce. This hard work would be distributed across 350 charitable organizations across New South Wales. Many communities struggle and on the day that our team of five were volunteering, they were directly picking orders for the below frontline charities across New South Wales:
Baptist Church 4 Life - Warners Bay
Life House Care The Pantry – Woolgoola
ADRA Food Pantry - Singleton NSW
Uniting Church - Brunswick Valley
Southwest Multicultural & Community center- Minto
Anglican Holy Cross Tuckerbox Hackett
Gungahlin Community Centre
A team of five from Simpson Strong-Tie Sydney office was split in two, and along with other volunteer groups worked together with their high-vis vests and picking carts collecting and stacking a whopping 2 tons of nonperishable and produce products for the day. While it was a full day, the team were very satisfied to know that the above communities will be receiving those orders to help give back to those less fortunate than us. In and amongst their very busy day, Robert was proud of the team and would like to acknowledge Narelle, Jodie, Connor and Nathan for putting their time aside in rolling up their sleeves and leading the way in giving back. Due to the success of the day, everyone was keen to participate again later this year. Rob is already in the works to look at broadening this up and hopefully schedule another day where NSW, Victoria and possibly QLD can participate and beat their 2t record!
Great Work Team!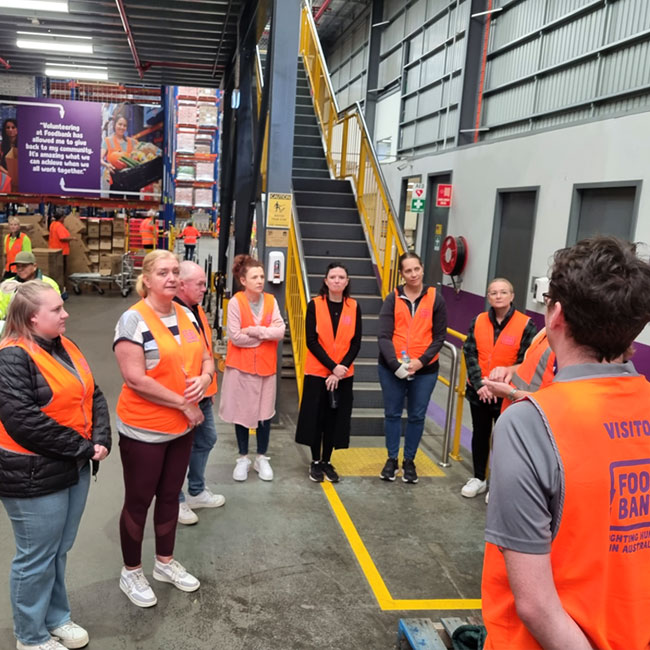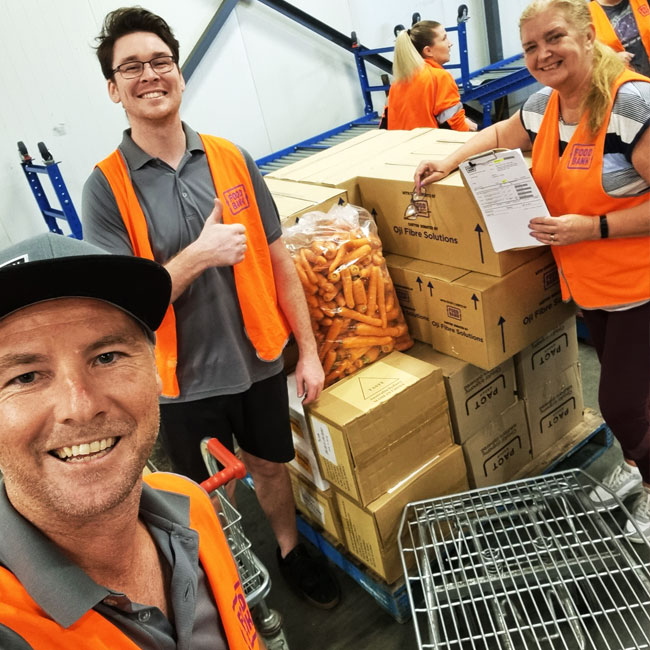 Structural Connections

Unmatched Quality from the Truss to the Foundation
With nearly 60 years of field and R&D experience, Simpson Strong-Tie® timber connectors are manufactured to the industry's highest standards. From framing angles to straps to heavy-duty joist hangers, we offer the most diverse product line so that you have the right product for the job.
Simpson Strong-Tie® connectors offer unmatched quality with laboratory and field testing, and are backed by our uncompromising commitment to customer service. As the company that built the connector industry, you can count on Simpson Strong-Tie® to work closely with builders, engineers and building officials to deliver innovative, building code-compliant solutions to help build safer, stronger structures economically. Download the Structural Connectors Overview Flyer.
Timber Connectors
From testing to service to availability, everything we do is engineered to ensure your project's success. With every product, you know you are getting the quality, value, service and on-time delivery that we have built our reputation on for the past 60 years.
From straps and ties to joist hangers and much more, Simpson Strong-Tie® structural connectors increase the strength and safety of timber-frame structures. Each connector is unique to Simpson Strong-Tie and is designed for specific applications without the need to adapt metal plating to suit a connection. Download the Timber Construction Connectors Catalogue (2016-2018).